Battlefield 4 was a key part of the recent E3 expo and revealed some major parts of a much loved title. The main part of the demo focused around a new 64 player map in a city/built up area based on Shanghai, which literally everything being destructible even the huge skyscraper. This now means that there is a lot more falling debris to dodge but also that no little campy hole is safe anymore. It also for new routes through maps by simply removing huge parts of the landscape.
This added a major new feature...dust! Now I know there is plenty who have their complaints about sunlight, so this may become a huge pain in the side as the dust does totally obscures vision and spotting enemies on the radar. Just another mechanic to get used to and to blame when the game just isn't going your way.
To go along with your dust, the Frostbite 3 engine throws some exciting possibilities for new gameplay features. The whole world is affected by forces from explosions and wind including the trees and clouds, which will should make for a real intense and immersive experience. A new feature called network water simulation means that the water effects are shared by everyone playing the games opening up the potential for dynamic ocean combat. This means that when fighting on water, waves a choppy sees can hide your boat and used as cover as well as creating chaos while swimming as the waves throw you against the side of boats and create a totally new combat situation. To see the full features watch the full video below:
http://www.youtube.com/watch?v=Po_ot...ature=youtu.be
And one of my favorite features has made a come back, the role of commander. It has been changed somewhat from the days of Battlefield 2. They are still able to call in support for group troops and set points to capture, but their resources are no longer limitless, they are based on how well their troops are doing and points they have captured. Commanders can take part in online matches from tablets, providing they have a decent enough internet connection, finally a use for the ipad(*apart from my beloved Grindr app).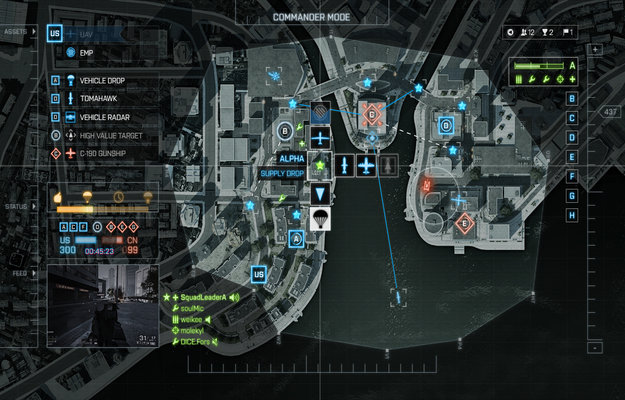 It looks very similar to BF3 but the graphics and physics look much improved. The sun glare, aka HOLY SH*T I CAN'T SEE ANYTHING, stills seems to be a big part of the game play, but now using the Frostbite 3 engine it may have been toned down slightly and only appear when the sun is actually in view. Also due to the maps looking to be more city based there is a lot more shade.
The game play looks almost identical to Battlefield 3 which is probably no great surprise as the current game is still widely played and didn't really need improving much.
Another interesting new feature is the counter attack to melee or knife attacks, now when a pesky ninja sneaks up on you sniping people, if your quick enough, you can now block their attack and knife them instead, which should lead to some clutch plays being seen.
As per usual there is a single player campaign, which was briefly shown in the expo and looked every bit as good as that of BF3.
The game looks set to be another huge hit and I am in great anticipation, but will have to wait until 1st November, which gives people whose systems can just about play BF3, to save up for some PC upgrades in order to play at a decent quality.
Here some footage from E3 -
http://www.youtube.com/watch?v=RJsb7FIwzD0